At More, we know partnerships across sectors will be increasingly important to advance our clients' great ambitions.

That's why we've spent time exploring the future of corporate partnerships with senior leaders across sectors. Our latest report shares new insights about how universities, charities and the cultural sector can collaborate most effectively with private business.

The analysis benefits from our own experience, and from the contributions of over 50 senior colleagues who are working across sectors - from the Royal Shakespeare Company, Great Ormond Street Hospital and London Business School, to GlaxoSmithKline, Deutsche Bank and KPMG. The report includes new evidence and case study examples.
Why does this matter?
We are living through a widespread crisis in trust and the ongoing battle to rebuild it. And the social macro-issues of our time demand collective responsibility and collaborative action.
Corporate partners aren't cash machines; they are much more useful than that. Engaged thoughtfully, they can make transformative contributions to societal causes through partnership working.
The most effective approach to addressing serious social challenges is often to engage business in ways that advantage society and shareholders. When corporates partner with the right causes with rigour and care, they establish a virtuous cycle where these twin aims are mutually reinforcing, rather than divergent.
Corporate giving will increase
There has been a significant move from transactional modes of corporate philanthropy, towards multifaceted strategic partnerships. Consequently, corporates are typically partnering with fewer organisations more intensely. Despite modest declines in overall levels of giving, median donation values among the FTSE100 continue to increase (to £5m in 2016). Corporates have now overtaken individuals when considering the total value of gifts of over £1m; for corporates this total has risen ten-fold in the last decade, to over £500m in 2017.
We predict that giving from corporates is likely to increase in the coming years. There is more evidence that partnerships work, increasing understanding that business and charities have complementary assets, and mounting pressure on companies to demonstrate social purpose.
Transformative partnerships
Transformative collaborations in the future will build on or move beyond bilateral partnerships to consortia models: charities, government, universities, business and individuals will increasingly coalesce around causes and issues, and create movements to drive change. These models are likely to focus increasingly on innovation, often embedded within organisations, drawing on strengths from different sectors.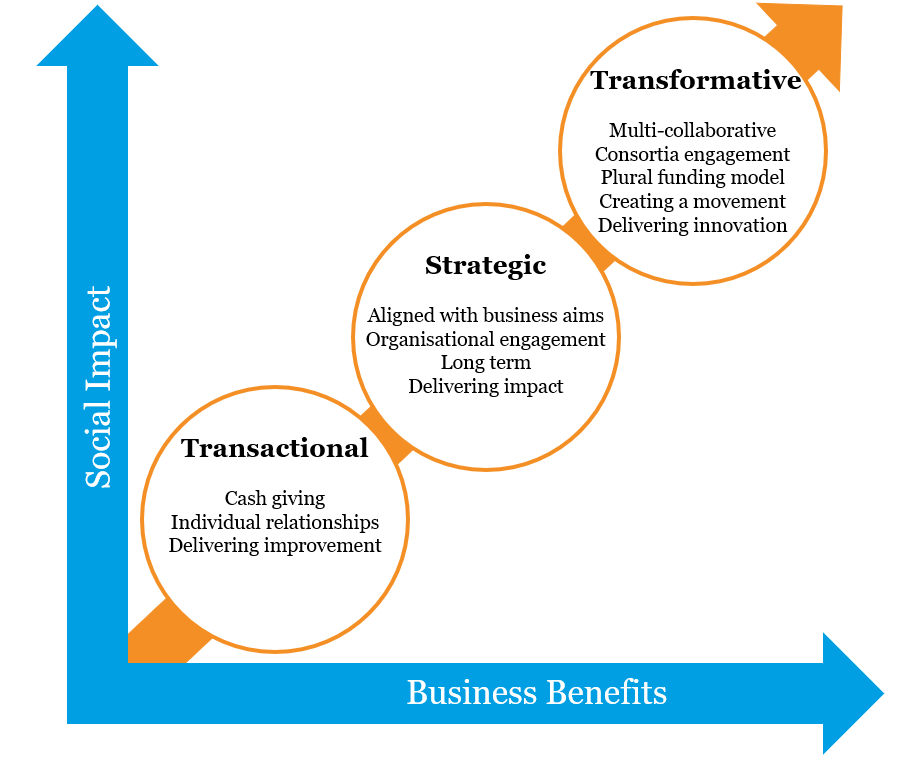 Digital technologies will provide new opportunities
While social value and business benefits will continue to dictate the nature of the game, digital technologies will continue to transform the way in which it is played. These will enable greater engagement, transparency and reach in many partnerships - to fuel social movements, through online platforms and digital resources, for example. Blockchain is currently regarded as a financial technology, but communicators might deploy it as a technology for 'secure storytelling'. Complete transparency in corporate partnerships, enabled by digital technologies, may become the important market differentiator.
Making it work
The report includes practical advice for those looking to excel in this area. Adaptable structures, effective organisational cultures and astute people are the essential ingredients to guarantee future success.
Organisational involvement is essential, but it is also important to have a single, central point of contact for key partners, in order to triage corporate needs, monitor programmes of work and broker relationships.
Our top ten tips below are detailed in the report:
| | |
| --- | --- |
| 1. | Value and impact should be the guiding focus – not just cash. |
| | |
| --- | --- |
| 2. | Effective professionals in this area transcend internal boundaries and work across sectors. |
| | |
| --- | --- |
| 3. | Engaging internal stakeholders is as important as managing external relationships. Develop a written case for partnership, involving a range of internal colleagues in the process. |
| | |
| --- | --- |
| 4. | Make effective use of data and intelligence about corporates through online platforms and research tools. |
| | |
| --- | --- |
| 5. | Engage the right people, adopting a triangulated approach. |
| | |
| --- | --- |
| 6. | Establish mutual respect and clarity of purpose in initial meetings. |
| | |
| --- | --- |
| 7. | Craft a Theory of Change (ToC) to ensure the partnership has a strong foundation. |
| | |
| --- | --- |
| 8. | Consider how multi-collaborative models and digital technology can best serve this ToC. |
| | |
| --- | --- |
| 9. | Volunteering opportunities should be driven by the ToC. |
| | |
| --- | --- |
| 10. | Celebrate robust impact evidence through compelling storytelling. |
About Nik Miller
The report's lead author, Nik Miller, is a partner at More. He has worked with a wide range of not for profit organisations and corporates to advance social and cultural causes. He has secured significant partnerships with, for example, Google, Goldman Sachs and KPMG.
Download
You can download a copy of "
From Transactional to Transformative: The Future of Corporate Partnerships
" alongside other More Partnership reports in our
Library
.